So today I decided to use my new Lacura lashes. I don't usually wear false lashes, before this I'd only ever worn the weird ones with feathers and glitter and stuff for fancy dress. Considering I'm not used to applying them I don't think I did too bad, although they're not quite close enough to my lashline.
Wow these pictures make me realise how badly I need a haircut. I can't decide though if I want to keep it long(ish) or get it cut short again.
I used:
Face
Bourjois 10 Hour Sleep Effect foundation
17 Translucent Loose Powder
MAC Hipness blush
MAC MSFN
Bourjois highlighter
Eyes
UDPP
Ruby and Millie Gold Cream e/s
MAC Time & Space, Nanogold, Orb, Spiced Chocolate & Shore Leave e/s
UD X e/s
UD Bourbon 24/7 liner
MAC Blacktrack Fluidline
Lacura lashes
Maybelline The Collossal mascara
Lips
17 Balmy Beige lipstick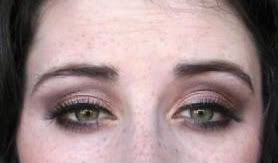 And a black and white photo, I'm trying to get some nice black and white pictures to put in my portfolio for my interview, since I'm sure I'll have to do makeyp for black and white photography in my course. If I get it, fingers crossed!
I went shopping today, got a few bargains.
The dress was €2 from Penneys, the falsies were 50c from there too.
I got this 17 Bronze palette a few days ago, my sister was buying some nail varnish from 17 and this came free. It's got 2 eyeshadows, a brown and a cream. A golden bronzer and a gold-brown lipgloss.
The other two items are a 17 nail polish, on clearance for €1.50, which I was going to buy for €5 a few weeks ago, and a Revlon lipstick, Black Cherry, which was €3 reduced from €10.50. The polish is black with silver sparkle and is gorgeous! The lipstick is a dark cherry-plum and very nice and creamy. I'll post swatches tomorrow, the light's too bad now.