I think Google Reader enjoys messing with my head.
Logged on today and there wer 989(!) unread items in there. I clicked on one, read it, and now there's only 787 unread items. The hell, google?
I've been trying to watch The Runaways for 4 days now. That movie hates me too. Got 45 minutes in 4 days ago and the sound went. Streamed it the next night and when I brought my laptop to bed to watch it, it turned out to be in black and white. Last night I got to the final 20 minutes and my battery died. Grr. Actually does anyone know if it's out on DVD yet in Ireland? I always like to buy DVDs when I like the movie, rather than watching them online.
In other news I went to Dublin for a shopping trip yesterday. It was fun, I got some nice new clothes and had a yummy dinner.
So I got to Dublin on the early (7:05, it was horrible) train. I had read online that Superdrug in Tallaght had Sleek so I got the Luas out there to try and get my hands on the new palettes.
Because I was still half asleep, I wandered around for 10 minutes looking for the shopping centre. Of course it turned out to be literally right across the road from the Luas stop. Typical.
So I finally found the Superdrug and went in all excited. Had a look around and saw no Sleek stand. Assuming my lack of sleep was making me stupid I found a sales assistant. "Hi, I'm wondering where you keep the Sleek cosmetics" "That what?" "The Sleek, you know... the cosmetics brand" She turns to another SA, "Hey, do you know anything about this... Sleek?"
It turns out she did, and what she knew was that they don't stock it in that Superdrug. Feeling so not impressed, I had a bit of a look around and managed to come across some M.U.A. things I liked, which were super cheap (€1.05 each I think). I'll swatch them and do a review once I've worn them, but I picked up a silver liquid liner, a blush, a clear mascara, the MAC Club dupe, a pale nude colour, which I'm thinking could be a dupe for my beloved MAC Orb and a purple.
At least it wasn't a complete waste of a trip.
I got the Luas back into town and rather annoyingly I finished my book halfway through the journey. I was reading Do Androids Dream of Electric Sheep? and it was supposed to last me for the journey home too. I quite enjoyed it though.
So I got off at Jervis st and went into the Jervis Centre. Annoyingly, Forever 21 is opening there on Saturday, so I missed it. I was starving by the time I got there so I popped into Boots for a sandwich. Why doesn't Boots in Galway do food?? Seriously, it was the best value lunch ever. For €3.99 I got a mexican bean wrap, a chocolate brownie (it was nom) and an Innocent strawberry and banana smoothie. Since the smoothies alone are usually the best part of €3 I thought that was super cheap for all three.
I had a look in the new New Look and was seriously underwhelmed. Sure, it's big. Yay. It doesn't really have much more in it that New Look here though, everything is just far more spaced out. I had to leave because the OMGBRIGHT lights and super shiny things everywhere were hurting my head. I went upstairs and bought a mustard yellow vest top in Stradivarius and a t-shirt in Bershka. Then I grabbed a coffee from Costa (mega expensive, but so frothy it was worth it) and off I hopped.
Check shirt- H&M, t-shirt-Bershka, mustard vest- Stradivarius

I went on a bit of a wander while I was drinking my coffee and I came across a Penney's. I didn't get much of a chance to look around, but I did notice some nice brogue-ish shoes. They looked cute in the small sizes on display, I'm sure on my size 8 feet they'd just look like I'd stolen a man's shoes. I picked up a few things from the Catrice stand in there, including a yellow glitter nailpolish, and I got a Penney's GILT gold gel liner which looks very promising. I've never tried Penney's cosmetics before, I often see nice looking bits reviewed on blogs, but the store in Galway doesn't seem to get the good things in.
The Ilac centre is one of those kind of forgotten shopping centres, isn't it. It's the one that misses out on all the cool shops. That being said, they do have the best H&M. I picked up a check shirt in H&M. I know for a lot of people these have become a staple, but I've never worn one before so I bought this one. I wasn't too impressed by what H&M had to offer to be honest, I usually like their jewellery and accessories but I didn't see anything that caught my eye.
My sister had told me about a shop on O'Connell st, beside Kylemore, that was selling cheap Urban Decay. I picked up a lipstick and the cherry big fatty mascara in there. A lot of the stuff they had in the shop I already own, but I tried to buy a surreal skin foundation, only to be told at the till it was twice the price I thought it was (apparently it was on the €8 shelf and should have been on the €16 one). I left it because there was no tester and while I don't mind spending €8 on a foundation that isn't a great match, €16 is too much to waste.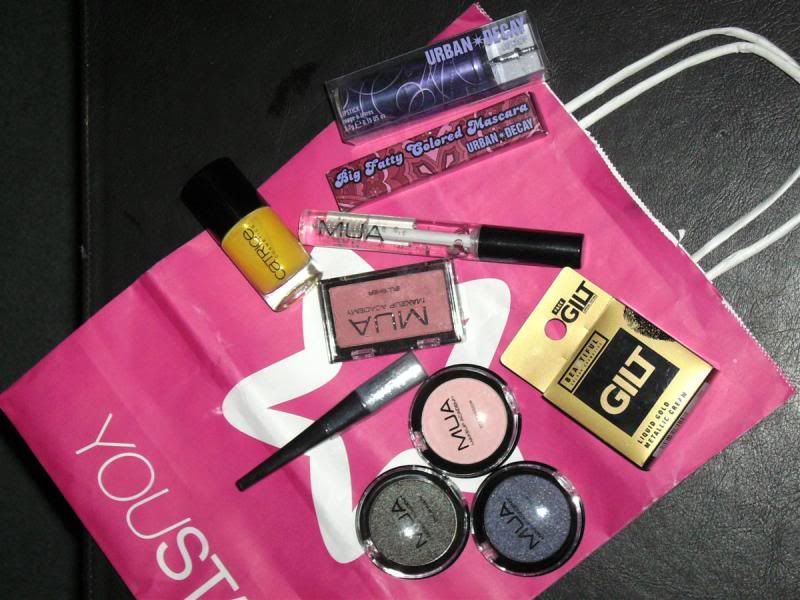 After getting my Urban Decay I headed over towards Temple Bar and had a bit of a look in Urban Outfitters. I was disappointed with UO, I usually want to take the whole shop home with me, but this time the only thing that grabbed me was a brown satchel, which I didn't end up buying. I really like it though, so maybe if they still have it next time I'm there.
Pic from UrbanOutfitters.co.uk




American Apparel was up next and I had printed an email for 20% off in there so I bought some green high-waisted jeans and a blue hoodie. It's so hard to find high-waisted jeans so whenever I do, I have to buy them. The jeans I got can be found
here
, although they don't have the colour I got on the website. I bought
this
hoody in Mermaid Green. It's the most comfortable hoody ever.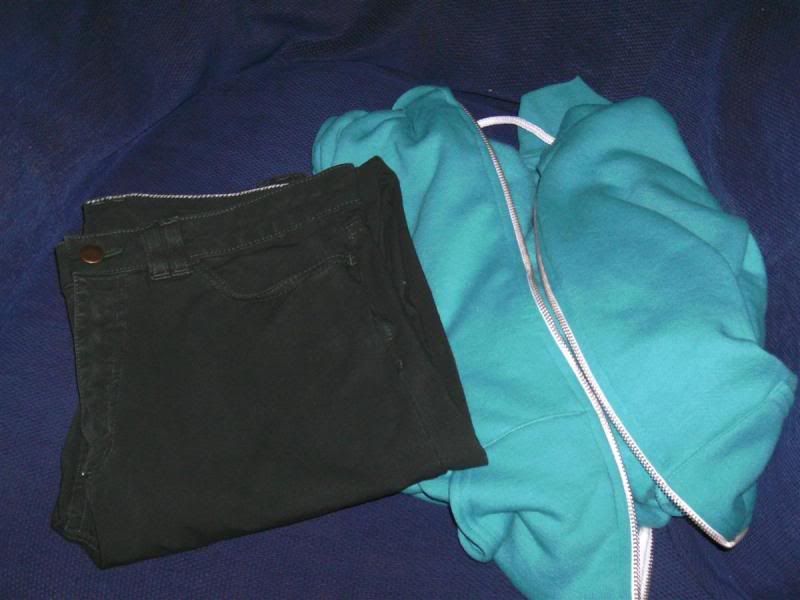 I have a question- Where exactly sells Urban Decay in Dublin? I was told that all the big boots stores sold it, and I checked every single one I saw but found no Urban Decay. It's really annoying because I need a new Bourbon eyeliner, all of mine are so small they can't be sharpened. Actually, has anyone else noticed that the silver bit on the end of 24/7 liners twists? So when the pencil begins to get small it becomes a total pain to sharpen and you have to abandon the last inch or two. Sneaky...
I took a bit of a wander around Grafton St without being amazed by anything and by then I was starving so I decided to head on over to Yamamori for a late lunch/early dinner. I had the lunch bento box (€9.95) and a Mojito (€5.50). It was lovely, and so filling I couldn't finish it all. In the bento I got 2 pieces of tempura fish, a brown rice ball, miso soup, salmon nigiri, prawn nigiri and a lamb and potato curry. The tempura fish was amazing, I think it had some pickled ginger in it and the batter was perfect. I didn't think I'd like the curry much when it arrived, it didn't look like the kind of thing I'd enjoy. Luckily I was proven wrong, it was great. I was a bit let down by the sushi, but maybe it's just what I got as I often hear people rave about their sushi. My prawn nigiri was ok, fairly tasteless but not awful and the salmon was clammy and seemed like it could have been fresher.
Oh, I forgot about my charity shop finds. In Enable Ireland I found these two great dresses. The gold and black one is from Warehouse originally and was €9 and the polka dot one was €15. I've always wanted a poofy polka dot dress, and now I have one!
After my dinner I went for a bit of a wander around. I was looking to find a second hand bookshop to get something to read on the bus but I couldn't see one anywhere and none of the charity shops I checked had anything decent. In the end I bought the new issue of Elle and, realising I'd just missed a bus, I popped into a cocktail bar to wait for the next one. I think it was called Morgans, it was around Temple Bar anyway. I had an amazing Raspberry Mojito, made with Bacardi Oro, mint, lime, fresh raspberries and raspberry liqueur.
It was niiice.