I wore this outfit to the cinema yesterday to see Resident Evil in 3D. I hate those suspenseful movies! I'm not sure how I feel about 3D either, wearing two pairs of glasses at once feels a little weird.
Topshop Leather Jacket
Topshop Zip-up Hooded Cardi
Dr Denim Jeans
Converse
Primark Dress
Thrifted Leather Belt
Ainé Wade Necklace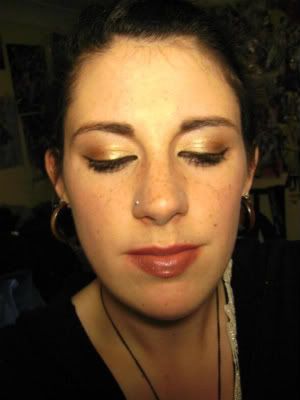 My makeup was nothing special so it doesn't get it's own post. I was wearing my Revlon Black Cherry lipstick which was really nice but it had come off by the time I took these.
Essence Clear and Matt foundation (it's rubbish!), 17 Translucent Powder, MAC Hipness Blush, MAC MSFN, Bourjois Highlight
UDPP, UD X, MAC Spiced Chocolate, MAC Evening Aura, UD Zero 24/7 liner, E.L.F black Gel liner, Maybelline The Collossal Mascara
I tried to get a nail picture too, but I think I fucked up my camera at e picnic, it got wet and now the it doesn't work so well.
It's a black sparkly 17 colour (I think it's called tinsel and tiaras) with a pink iridescent colour over it and then another layer of the black.