Lately I only really wear nice makeup when I'm going out, and usually I'm in such a rush to get out the door (I'm awful for telling people I'll be there in 20 minutes when I'm only getting out of the shower) that I don't have time to take photos.
I was out one night last week though, at a really good club night (which will hopefully become a regular thing, will post details up here if it does) and I thought my makeup came out quite nicely. Unfortunately the only pictures I have were taken in the club, but I've cropped everyone out of them and they look ok.
I'm not entirely certain what products I used, but I'll try to figure it out.
Face
Bourjois Healthy Mix Foundation
Almay Nearly Naked Makeup
E.L.F. Complexion Perfection Powder
MAC Peachykeen Blush
MAC MSFN
Bourjois Highlighter
MAC Fix+
Eyes:
UDPP
Fyr. Pixie Epoxy
UD Ransom e/s
UD Zero e/s
UD Yeyo 24/7 liner (inner corner)
UD X e/s (over Yeyo)
I think I may be missing an eyeshadow here, it looks like I'm wearing something light across my lid
UD Flipside 24/7 liner (lower lid)
UD Peace e/s (over Flipside)
UD Zero 24/7 liner (tightline)
Collection 2000 Big Fake Mascara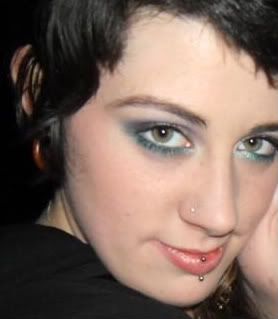 Oh and I got my lip pierced. It's a vertical labret and I got it done 2 weeks ago. I love it! I cut my hair too, but you can't really see in these pictures, it's much nicer now.